Kingdom Women Ministry
Purpose
To equip, inform and inspire women of nobler services as we share the Gospel of Jesus Christ and the gift of salvation.
Pray individually and corporately for specific needs or concerns.
Encourage the women of the Church to participate in the Ministry and to build a strong network of support.
Plan fellowships and other events that promote spiritual growth.
Respond to community needs and identify possible resources.
Ministry Mission Statement
Kingdom Women vigorously seek the Kingdom of God and His righteousness. This requires earnest endeavor and diligent faith, spiritual warfare that includes the Will to resist satan and sin; and to hunger and thirst for the Word of God. Together, we will intercede through fasting and prayer for the lost, the family and the community. We serve God with whole hearts and willing hands, performing good deeds that please the Father. We will walk in love and protect the spirit of unity through the bond of peace among the sisters as we follow Christ Jesus.
Foundational Scripture
"For if thou altogether holdest thy peace at this time, then shall there enlargement and deliverance arise to the Jews from another place; but thou and thy father's house shall be destroyed: and who knoweth whether thou art come to the kingdom for such a time as this?" Then Esther bade them return Mordecai this answer, "Go, gather together all the Jews that are present in Shushan, and fast ye for me, and neither eat nor drink three days, night or day: I also and my maidens will fast likewise; and so will I go in unto the king, which is not according to the law: and if I perish, I perish." So, Mordecai went his way, and did according to all that Esther had commanded him.
Esther 4:14-17 KJV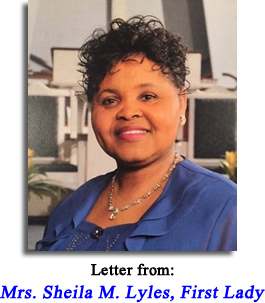 Greeting Kingdom Women,
"Arise, shine; for thy light is come, and the glory of the Lord is risen upon thee." Isaiah 60:1 (KJV) Arise to a new day, glowing brightly and radiant with the glory of God upon our faces.
Ladies our theme for the year 2021 is "Lift your Sisters and Become One"
(John 13:34-35, 17:21-22)
Our Vision is Building Healthy Relationships
and growing in the fruit of the Spirit Love.
Sisters, daily allow the glory of the Holy Spirit to beautify:
our eyes to see a need and respond to it
our lips to speak a kind word
our hands to lift a sister up
our feet to walk along side her and give her strong support
our whole body to serve and love her unconditionally
Jesus said, "A new commandment I give unto you, that ye love one another; as I have loved you, that ye also love one another." John 13:34 (KJV) "That they all may be one; as thou; Father, art in me, and I in thee, that they also may be one in us: that the world may believe that thou hast sent me." John 17:21 (KJV)
Arise! Let the Light of the Holy Spirit shine brightly through you, as you "Lift your Sisters and Become One."
Love,
Mrs. Sheila M. Lyles, First Lady
The Prayer Room
How can we pray for you? Our Prayer Team prays over each prayer request believing God to hear and to answer prayers.
Submit a Request Now
Momma Knows Best
An opportunity to submit questions anonymously about sensitive and intimate subjects and receive wise and godly counsel.
Submit Your Questions Here
Sister to Sister News
These Newsletters are prepared with much love and joy and are issued on a monthly basis. Continue to stay Safe and Strong in the Lord!
Download Here